Jaws, more tech details


The jaws are currently made of high-alloy tool steel (more than 11% chrome). Highly abrasion-resistant steel, difficult to machine.
Purchased directly from the Böhler / Voestalpine Austria steelworks.
No intermediaries (quality risk and origin uncertain). This mill is known all over the world, specializing in the production of tool steels.

Vakuumgehärtet und dreifach angelassen auch in der Voestalpine-Niederlassung in Polen. Es es gibt keine gegenseitige Schuld (Härtewerk an Stahlwerk und umgekehrt).
Härte nach dem Anlassen 60 - 61 HRC max. Durch die dispergierten extrem harten, feinkörnigen Legierungskarbide ist die Sorte sehr verschleißfest.
Diese Karbide sind viel härter als Martensit (oder Zementit) in klassischen Kohlenstoff-Werkzeugstählen.
Kurz gesagt, es wäre genauer, hier den Begriff Mikrohärte zu verwenden.
Es ist auch duktiler, was zu weniger Sprödigkeit führt -
In diesem Fall haben wir also ein viel geringeres Risiko, harte Zähne zu brechen, wenn wir es mit Kohlenstoff-Werkzeugstählen vergleichen.
Die Härte klassischer Güten (Kohlenstoffstähle) sogar 65 HRC Rockwell, heißt es absolut nicht und ist es auch nicht,
dass sie eine höhere Abriebfestigkeit und Standzeit aufweisen als die aktuell diskutierte hochlegierte Sorte.
Dieser moderne Stahl ist die erste Wahl für Massenproduktion, Großserien in der Maschinenbauindustrie, Automobilindustrie, verschiedene Werkzeuge, Stanzwerkzeuge usw.

Vacuum hardened and triple tempered also in the Voestalpine branch in Poland. There is no blame (heat treatment plant to steelworks and vice versa).
Hardness after tempering 60 - 61 HRC max. The grade is very wear-resistant thanks to the dispersed extremely hard, fine-grained alloy carbides.
These carbides are much harder than martensite (or cementite) in classic carbon tool steels.
In short, it would be more accurate to use the term - microhardness here.
It is also more ductile, resulting in less brittleness -
so in this case we have a much lower risk of breaking hard teeth if we compare it with carbon tool steels.
The hardness of classic grades (carbon steels) even 65 HRC Rockwell, it absolutely does not mean and it is not,
that they have greater abrasion resistance and service life than the currently discussed high-alloy grade.
This modern steel is the first choice
for mass production
, large series in the engineering industry, automotive, various dies, stamping dies, etc.


As far as I know - I am the only manufacturer that produces teeth on this type and similar jaws made of high-alloy tool steel.
They all do it cheaply, easily and quickly with carbon tool steel.


Due to the declining production quality of various steel mills - from tool carbon steels - I definitely gave up this application a few years ago.

The teeth visible in the photo are perfect - ...I have to get a better macro lens :-)
Each tooth is sharp, each has the same shape - produced a year ago or will be produced in a few months.
Unfortunately, the current steel, the starting material, even annealed with softening,
is much too hard
to make teeth using the classic method - just like cutting teeth on files.
There are furrows, not sharp teeth - there is no way to get it their correct shape.
In addition, the chisel / solid carbide ram breaks too quickly.

Making only the incision of the teeth on the files (carbon steels) takes a few seconds on the machine.
Here, for example, the incision of the teeth in the entire set of jaws (only the teeth) takes several hours (!)
As a curiosity, I would like to mention that earlier, among other things, I also did tests (for my own information, "for the glory of science")
of individually cutting teeth with solid carbide cutters on a CNC milling machine (current high-alloy grade)
Specially selected solid carbide cutters for this operation.
It did not have a positive result. The cutter was dull before it finished notching the teeth on one single jaw (burrs and blunt tip of the tooth).

I don't want to simplify here. The production of files is also not easy - as it might seem.
One of the most important is also heat treatment. Each manufacturer has its own tricks and technology developed over the years.
There are many different technological operations with files.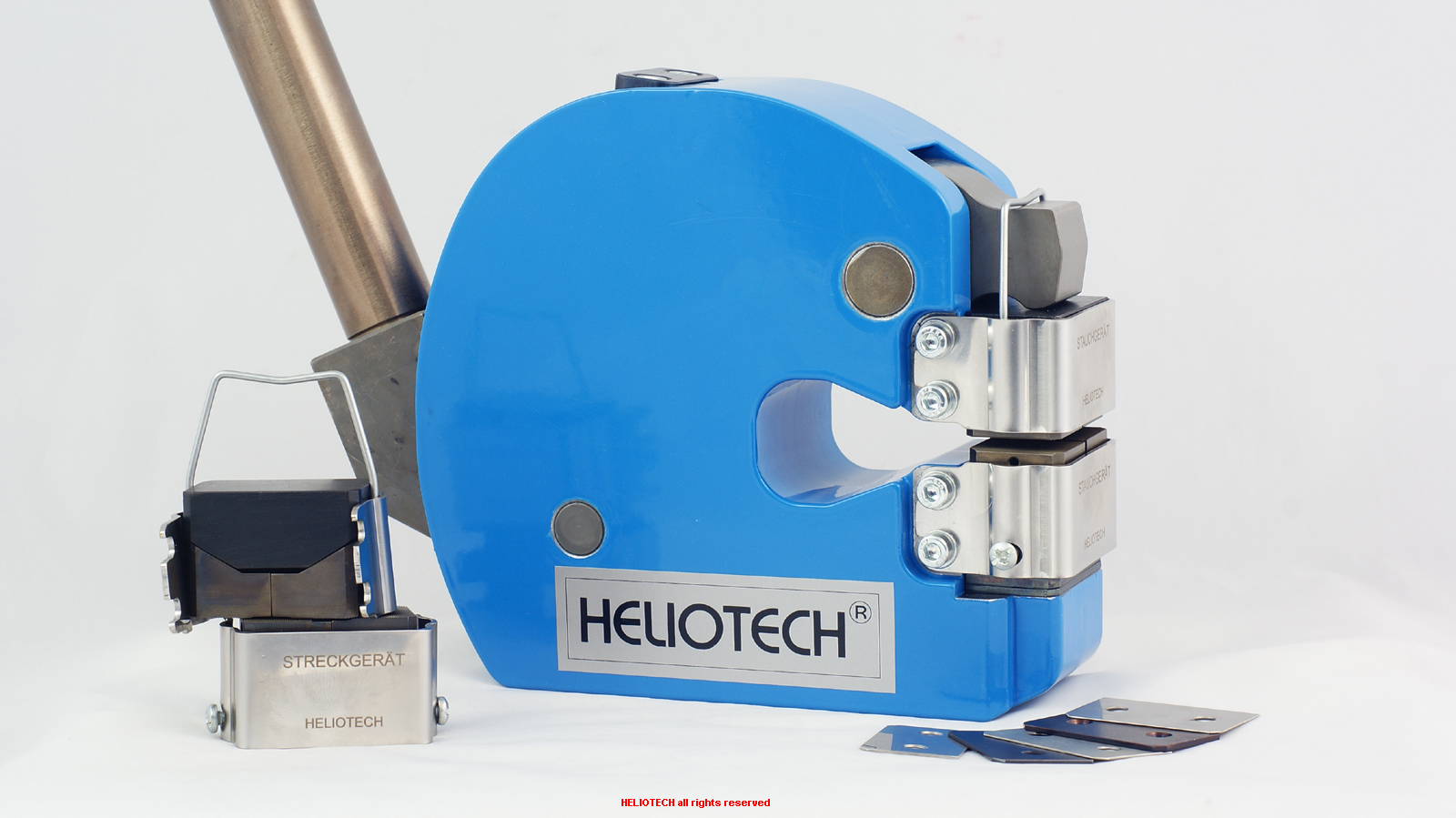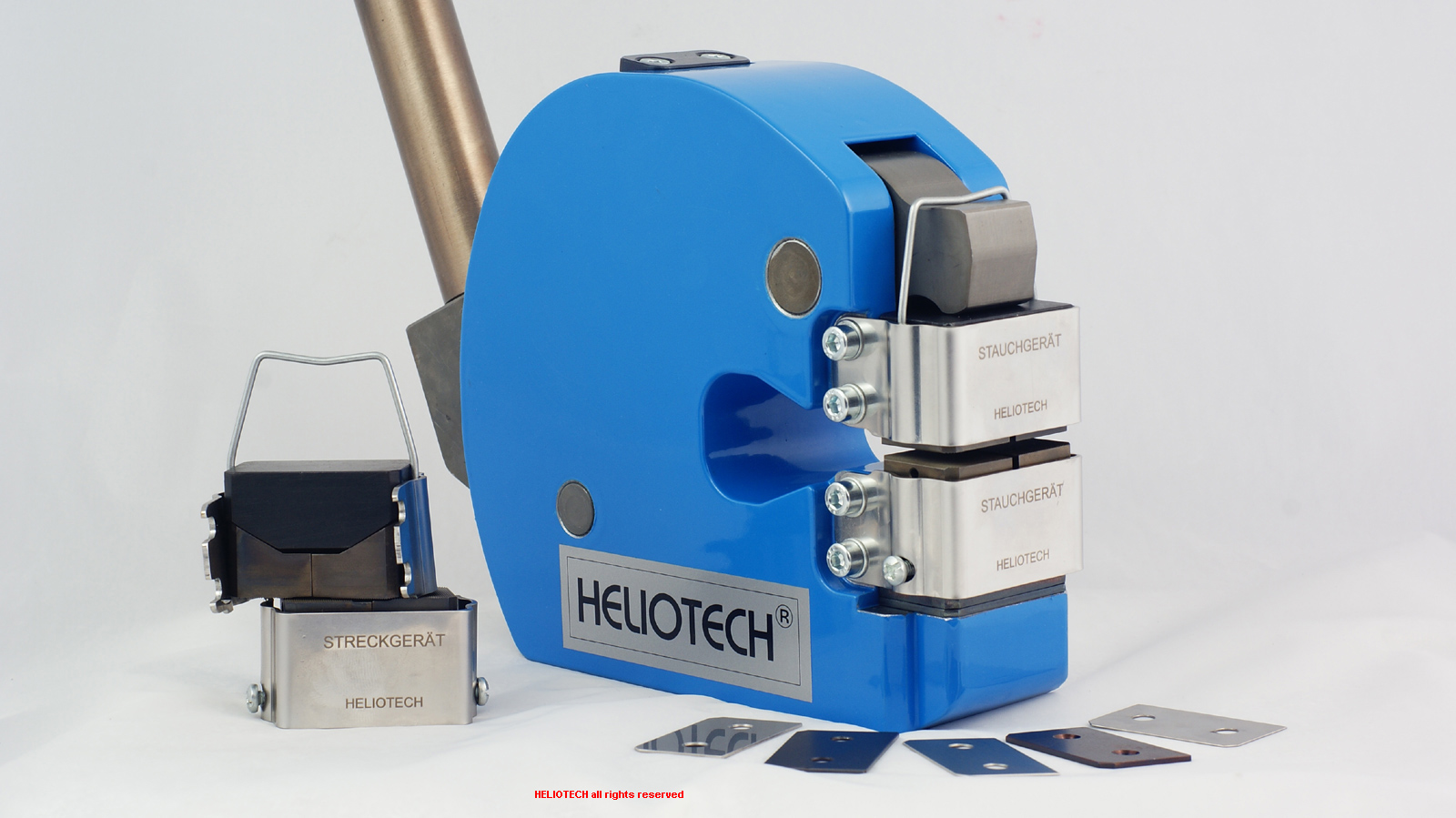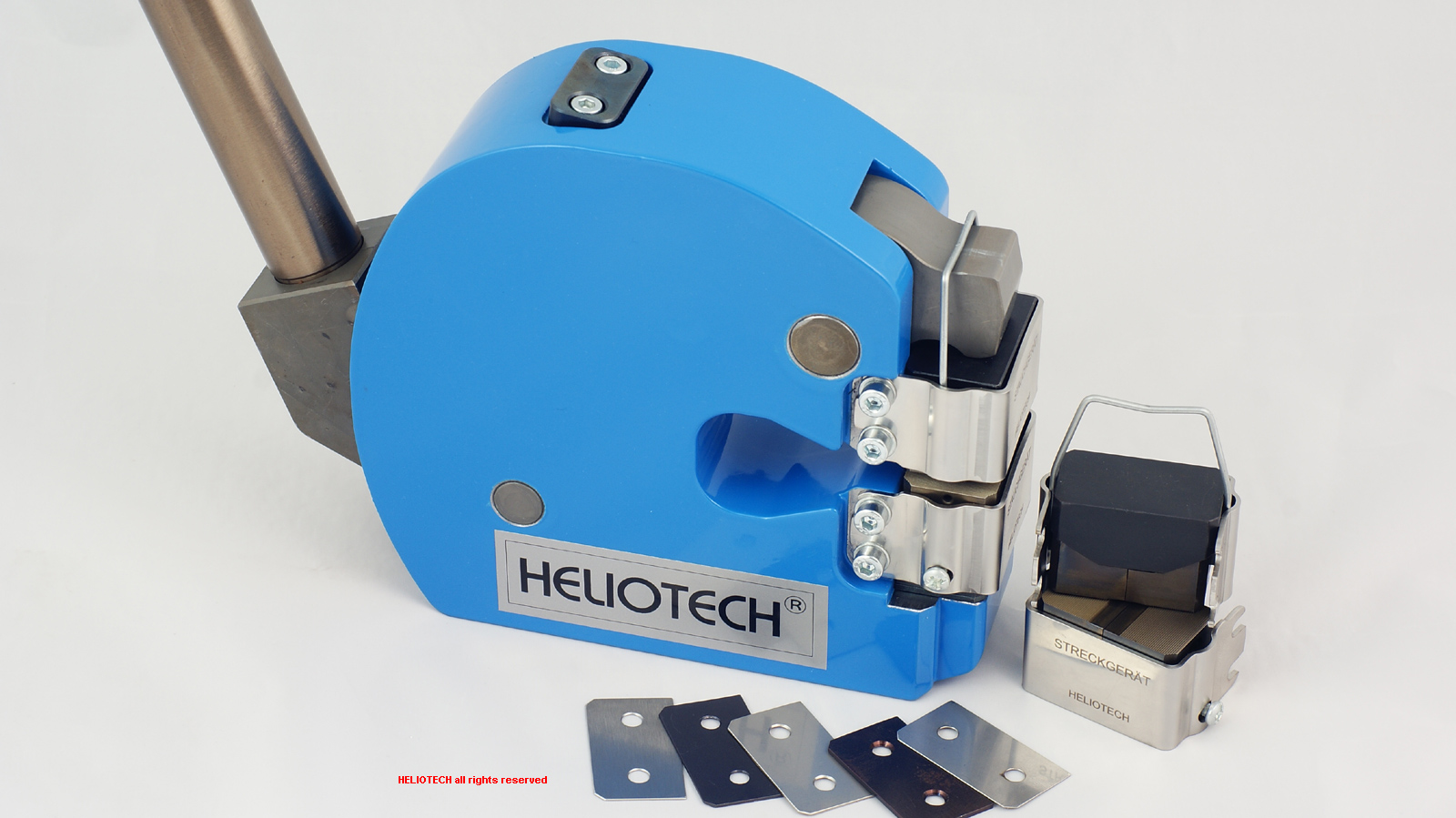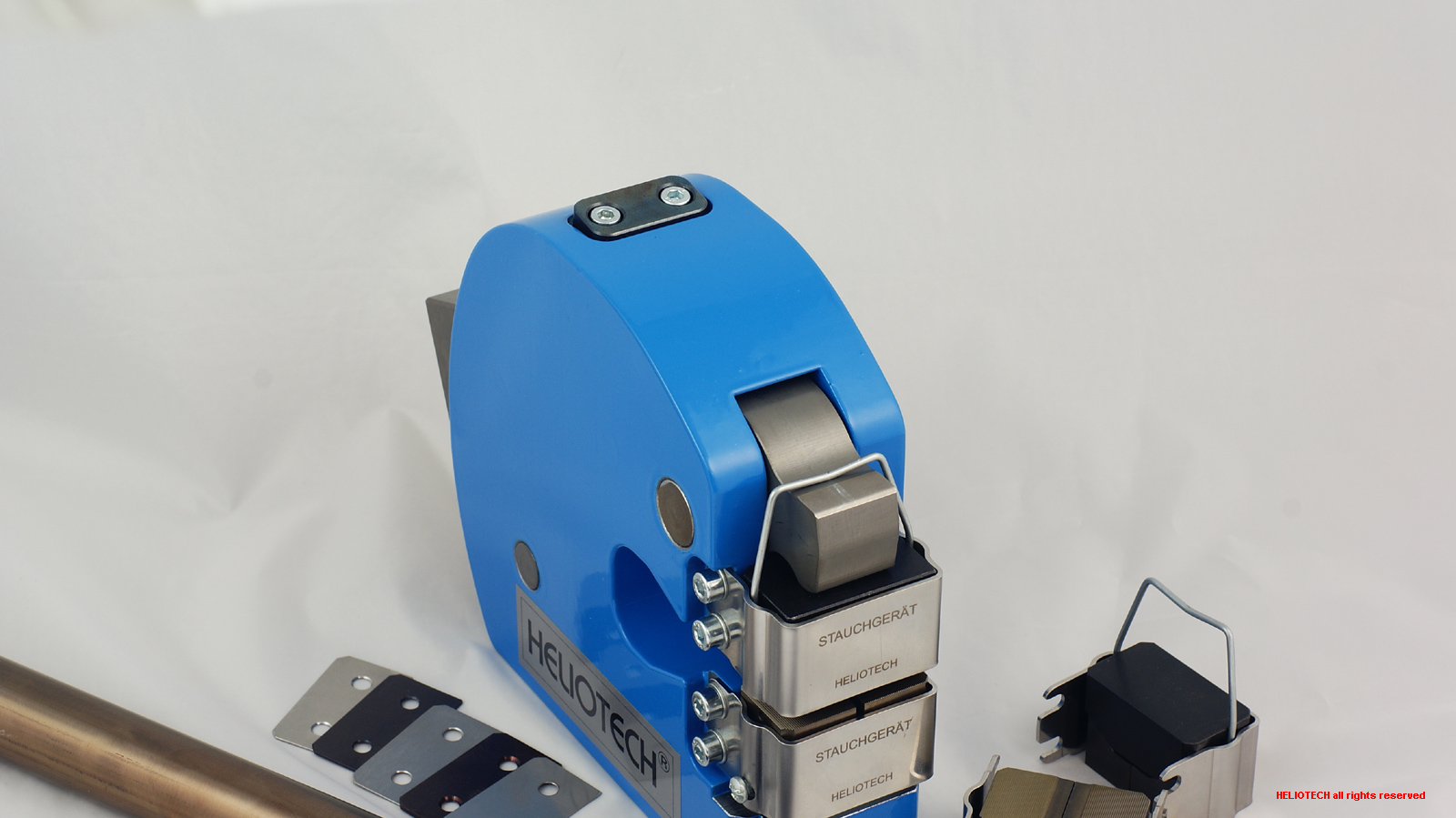 WHY IS THIS COMPACT HELIOTECH SHRINKER STRETCHER SR80 MODEL BETTER
THAN OTHER SMALL SHRINKERS STRETCHERS ON THE MARKET ?

It is a tool for everyday, hard workshop work. It is not a toy for occasional use.


Very stiff shrinker very carefully manufactured with ADJUSTMENT. The only one of its kind on the market. NOVELTY.
Adjustment is a very useful function during work.


- coarse
- fine.


The coarse shrinker stretcher adjustment is used when we significantly change the thickness of the processed sheet, e.g. from 0.5 mm to 1.0 mm.
The second type of adjustment, stepless precise shrinker stretcher tuning - possible smooth tuning between the delicate and more aggressive nature of the work.
Fine adjustment principle - screw driven wedge accessible from the rear of the body, see photos .


I encourage you to use the adjustments on a daily basis.
Precision and repeatability of shrinking stretching


Each deformation step - preset - is identical due to the integrated stopper inside the body.
Repeatability is maintained, whether the operator presses the lever less or harder with more or less attention.

It is easier to obtain, for example, a better quality surface with gentle shrinking
or reduce the risk of tearing the sheet metal with too aggressive, careless stretching.
Cracking or tearing the sheet metal can be "painful" if the sheet is larger, or if we spent a few hours or more earlier on making a sheet metal panel.


Capacity, metric steel:

0,5 - 1,0 mm (1,2 mm close to the edge)
0,8 mm, very easy !


Capacity, US standard sheet metal gauge No:

25 - 19 ( 18 close to the edge)
21 very easy !

Nearly 2x enlarged the horizontal gap between the jaws compared to classic models.
Easier, horizontal sliding, also of slightly curved sheets during processing.


Service life


Even after several years of operation, if the elements of the mechanism are slightly worn -
it's with the help of fine adjustment - you can always "tune" the settings to your favorites, or return to the factory settings -
of course, without replacing any elements of the mechanism.
Such a situation is not possible in classic or competitive small shrinkers stretchers.
As a result of slightly worn elements of the mechanism, classic models usually do not want to work properly anymore.

Adjustment and more, make this Heliotech shrinker stretchers SR80 model - almost eternal !

You always have the option to buy spare parts - not like from a random trader.
Heliotech has been producing various shrinkers since 1992.

Heliotech always offers carefully made products.


Convenience and lightness of work


In this new HELIOTECH adjustable shrinker stretcher model SR80,
significantly more massive elements of the mechanism are used: levers, thicker pins.
Vulcanized, larger diameter rubber handle.
A completely different drive mechanism. This is not the typical antiquated mechanism known as "double lever".
Here is a lever-eccentric mechanism.
This mechanism has a larger, more favorable gear ratio.
Operation, required operator pressure on the lever - much lower compared to standard shrinkers.
In conjunction with a better eccentric lever mechanism, it enables pleasant work,
even for many hours -
without blisters on the hand
!


Risk of buying from other unknown producers or traders


If you are hunting for random, cheapest products on the market, you must be aware that
that you buy not only a cheap product that has been made cheaply, but often it may be additionally defective / incompatible
with the previously adopted design or production criteria of the same manufacturer.
Production and quality control procedures in Europe or the USA have a different approach, different way of thinking, different standards,
quality standards, different requirements in relation to each other.
Items that do not comply with the documentation or tolerance are simply scrapped.

In other countries, not necessarily.
There will always be a foreign importer and trader who will buy and sell it with a higher margin than usual.

The purchase requires some thought. Often times, it's better to buy better once and for all.
A good quality product, in many industries, even used, has its price on the aftermarket. Then you don't really lose much by spending more at the start.
At the same time, you deal with your topics without stress and wasting time due to problems with low-quality cheap tools.

Details of construction and production technology


Shrinker stretcher body



The bodies are CNC burned and milled from thick steel plates. Sandblasted and powder coated.
It is NOT any iron casting or steel casting.
All available volume inside (except the mechanism) is "filled with the body". No free space.
But why not a casting?


Castings "like" a similar thickness of all walls as well as smooth transitions between the walls with a fairly large inner radius and radius on outer edges.
In addition, a casting (also made of steel) may have many, also invisible, internal defects, such as:
cracks, grooves (small voids), Widmanstätten structures and many more.
In the case of CNC milling from steel block (plate), it is possible to practically shape the body very accurate, with large differences in wall thickness,
also with sharp angular transitions between the walls.
The available space / volume is fully filled with steel - which is not possible with a casting.
This makes the body made in this way (more labor-intensive) significantly stiffer and more exact than the casting.
Moreover, the risk of internal defects (the raw material is hot rolled) - practically does not exist in this case.


Other elements of the shrinker stretcher drive mechanism, materials and heat treatment


Elements of the mechanism: levers, pins, rollers made of steel, dedicated to carburizing.
These elements are
atypically deep-carburized
, quenched and tempered to a hardness of 59 - 62 HRC.
Pins ground to "almost mirror".

Carburized and hardened or only hardened elements always undergo slight deformation.
Here, for example, the holes in the levers - where the pins are fitted - are also precisely calibrated after heat treatment
in order to fit correctly, adhere on a large surface, and increase the service life of the elements.
Many other manufacturers of cheap shrinkers don't do that (just a little more play, a little bigger diameter and it can be assembled).

Carburizing in modern furnaces in a carburizing atmosphere. Correct, multi-hour, controlled process.
In the photo you can see the elements (e.g. the front lever) exactly as it comes out of the quenching furnace.
I didn't do any MASK for imperfections.

This is not a simplified process like in hobby shrinkers that flood the internet with:
quick hardening of "some" steel capable of hardening (without a protective atmosphere) in oil.
Then masking blackening (scale, decarburization, burnt oil - which is actually soot). You touch and dirty black fingers!
You will work for some time - and the surface critical surfaces are worn, the tool is out of calibration - if it worked properly before.


The heart of shrinkers - jaws


Jaws made of
high-alloy tool steel
. (NOT the cheap and easily workable carbon tool steel, typical for file production).

Sheet metal housing of jaws made of thicker polished stainless steel, popularly known as "304"
Spring wire hangers, also made of spring stainless steel.


Simple technological tricks and environmental protection


Handle - lever: rigid thick-walled pipe. Handle, vulcanized rubber in a vulcanization form made individually, especially for this product.

Pipe, here I experimented with an oxide coating with a shade pleasing to the eye.
ECOLOGICAL and simple: no electroplating, no blackening in environmentally harmful molten salt mixtures, no drops of oil! :-)
Obtainable full range beautiful colors, various shades from straw, through light blue, dark blue to dark brown-violet.


Where possible, I encourage others to use environmentally friendly methods.